New Campus of UET Lahore is dedicated to every possible limit to make life for its students as comfortable as possible. Transport service is provided students, faculty and staff. For this purpose the transport section of UET New Campus has a total of 17 buses and 02 Coasters, One MPV, Three Cars, One Jeep, Two Tractors and Two Motor bikes. The transport section is also in the process of purchasing more vehicles to make transport facility more easy and comfortable for the students. All these vehicles cover whole of Lahore division and the transport is provided for all possible routes and for some of the nearer routes it is provided twice a day as well. A transport office has been set up for this purpose which makes sure that all of the students can avail the transport facility as easily as possible. The transport section is heading by Convener, Transport Committee and the committee is consisted of 6 members.The transport office is located inside Administration Block at the campus. 

The services provided by the transport office are :
Information regarding various route plans. 

Provision of information related to the timings of buses for various routes.

Help students, faculty and staff about transport facility.

Issuance of transport to the students/faculty/staff after approval from the authority.
There are fifteen transport routes covering major areas of Lahore city and towards Gujranwala. Details of each route is mentioned below :-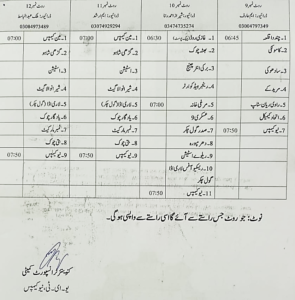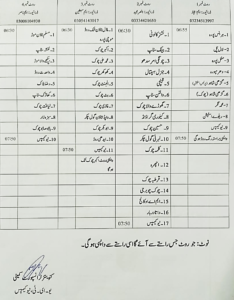 Transport Section of UET New Campus is functioning under the supervision of Convener, Transport Committee. The committee is consisted of six (6) members.

Dr. Masood Ul Hasan Farooq, Associate Professor, Department of Natural Sciences & Humanities,

(Convener)

Prof. Dr. Sikander Rafiq, Chairman, Department of Food Engineering & Biotechnology

(Member)

Dr. Nida Iqbal, Associate Professor, Department of Biomedical Enginering

(Member)

Muhammad Moeen Sultan, Assistant Professor, Department of Mechanical Engineering

(Member)

Rizwan Khan, Lecturer, Department of Electrical Engineering

(Member)

Abdul Muhaimin

Faroo

qi,

Deputy Registrar, New Campus

(Secretary)
In case of any query / inquiry about route timings or route details, following officials may be contacted.
1. Mr. Jaffar Hussain, Transport Section (0345-4365171)
2. Mr. Muhammad Mushtaq, Senior Driver (0304-0165776)